British Starry Nightlight Astronaut Galaxy Projector:
Want some company?
Brewish starry night light projector will make you feel less lonely when you're sleeping in a dark room. You'll feel like you're sleeping in orbit with this wonderful nightlight that projects myriads of stars gently onto your walls and ceiling. Astronaut Star Projector is the best night light and star projector on the planet. It's ideal for your bedroom, office, or any room of your home.
360 degree Adjustable Projection Head
Don't worry about positioning the device to project on your desired surface - You will be able to adjust the projection angle to whichever one you like and enjoy an immersive 360° head rotation experience with perfect projection angles.
8 Effects to Match your Moods
Give your home a fresh look and feel with the Star Lamp Projector. Our stunning galaxy effect will make your room complete with a beautiful starry sky. With 8 tranquil effects, you'll have the best sleep ever.
Remote Control Function
You can now control the starlight using the remote control. With remote, you can control the following 1. Nebula Color, Speed, Brightness 2. Star Breathing Rate, Brightness 3. Timer settings
Timer Function
With the Auto Timer option, you can set the timing to either 45 or 90 minutes to shut off. So sleep peacefully under the million stars without worrying about leaving it on all night.
Star Projector Galaxy Light for Kids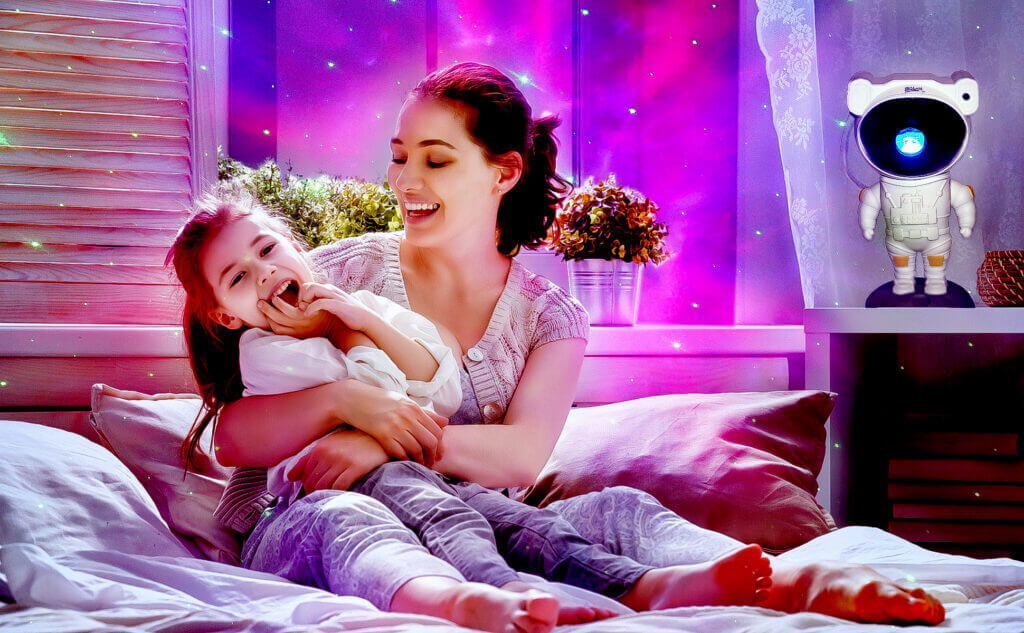 Sleep Well and Live Better
Brewish Kids Star light Projector for Bedroom ensures that you can enjoy special moments from bedtime stories to family gatherings. Just Plug in the Projector and see the wonder of the universe. Let your kids step into the minds of astronauts and experience Orbital for yourself: the Brewish kids' planetarium projector that lets you explore space without leaving your house. Forget about your worries and let your mind drift weightlessly as you explore the vastness of outer space.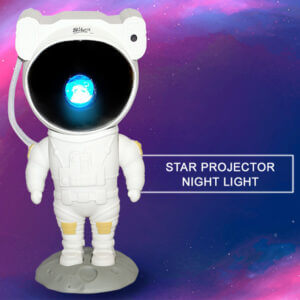 Nebula Light Projector
You won't enjoy it as much anywhere else! Astronaut Star Projector will transform any room into a spacey atmosphere! This star projector will allow you to create a galaxy of stars on your ceiling with just the touch of a button. For an out-of-this-world experience that you will never forget, get your own personal Astronaut Star Projector today!
You'll never miss your bedtime again!
Save money on expensive decorations for your space! The Astronaut Star Projector is a great way to light up your life. Give yourself the starry skies you never knew you always wanted. It's a great addition to parties and a must-buy for kids of all ages, who will love how it responsibly and effectively relaxes them before bed.
Brighten up your life with Brewish Light Projector!
This projector can be used for all sorts of occasions and is great for children and adults. Stargaze in your own room with Brewish Astronaut Star Projector! Bring a little piece of the galaxy into your world with this fascinating lamp. With a soft glow and mesmerizing display, you'll be able to relax and get lost in a virtual galaxy every night
Hang in there with the power of the stars
The Astronaut Star Projector is perfect for anyone who wants to unwind by gazing at their own personal galaxy every night.
With a few clicks, you can project the beauty of the stars and the universe on any surface. Whether it's through your bedroom window or in your living room, this lamp is perfect for any occasion!
About Brewish
This product is from the house of Brewish - Pioneer in manufacturing LED Lava Lamps. Brewish is committed to produce the best premium stuff to facilitate and serve people in a desirable wishing atmosphere. We are plunging all the attention to turn out wonderful and satisfied services. Consumer's satisfaction would always place on a top prior position.