Feel the Magic of Space with Brewish Galaxy Moon Lamp....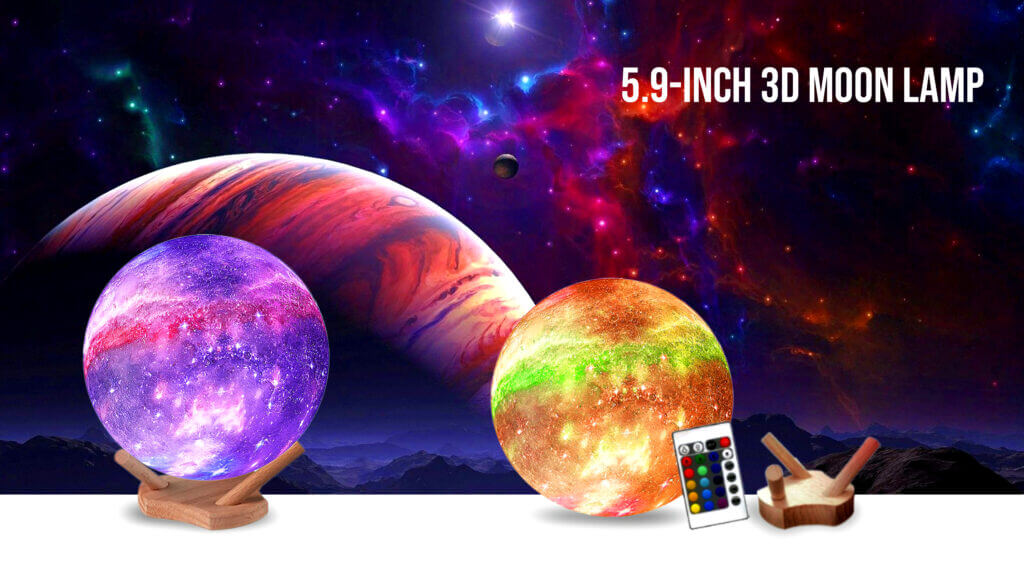 Masterpiece of Brewish
This product is from the house of Brewish – Pioneer in manufacturing LED Lava Lamps. Brewish is committed to produce the best premium stuff to facilitate and serve people in a desirable wishing atmosphere. We are plunging all the attention to turn out wonderful and satisfied services. Consumer's satisfaction would always place on a top prior position.
Brewish 3D Printed Moon Lamp
This lamp is designed with high tech 3D printing blending galaxy and moon. The lamp produce colorful show mesmerising the viewers. The starry galaxy pattern on the lunar lamp brings the mighty universe to your room. The 5.9-inch diameter is large enough to deliver happiness to the users. It is a real stress buster and anxiety solver. A good conversation starter on a romantic date.
Your home deserves the best!
Are you looking for a unique decoration to add to your room? You'll love this 3D printed moon lamp! It's made from quality materials for a quality product that will last. And with 16 vibrant colors, you'll have a new favorite light to choose from every day!
You can select your favourite color from the 16 color options provided. You can set the color based on your mood. You can set the moon light lamp to change color one by one with timer in remote.
Touch control & Remote Control
Now control the Moon Night light by the touch sensor in the lamp. One can also operate with the remote. With the help of the remote you can set few patterns of color change and also adjust the brightness of the lamp
The Lunar Galaxy Lamp comes with an elegant designed sturdy wooden stand to place the moon lamp safely. The package also includes a accessories hook and string to hang the moon lamp on your favourite spot.
Our galaxy moon night light is made up of non-toxic materials. It is odourless and perfect for kids love. The lamp doesn't flicker and very safe to eyes. It can be even use as a baby night light.
Brewish Moon lamp is the best option for Kids night lamp. Either you can place the lamp on the desk with stand or hang it in the kids bedroom. The colorful pattern and bright light recreate kids. It also brings curiosity about the astronomy and galaxy. Best gift for the kids who are fond of science, space and astronomy. It is suitable for both boys and girls.
Finest Choice for Gift giving
Kids will love this..
Moon is considered as the symbol of love. Moon also conquer darkness and spread positivity. These make Brewish 3D LED Galaxy Moon Light the perfect gift for all occasions like birthdays, weddings, house warming, thanksgiving, newly engaged couples, especially Christmas and New Year. With no doubt, your loved ones will praise this gift.