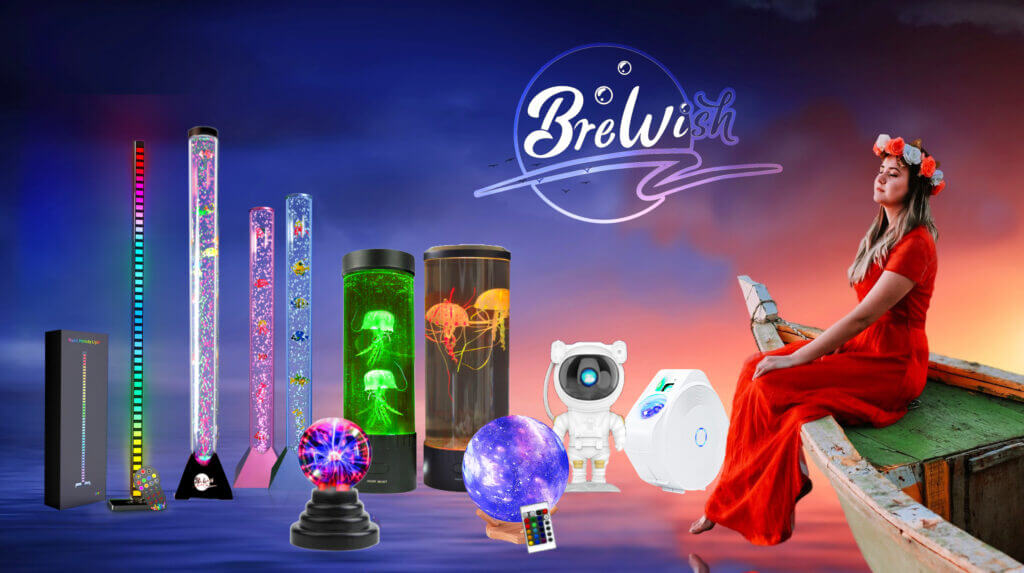 Welcome to our blog about LED Sensory Lamps! Our goal is to provide you with the latest information about how LED Sensory Lamps can help improve your well-being and create a more relaxing atmosphere in your home or office. We'll discuss the different types of lamps available, their benefits, and how they can be used to enhance your environment. We'll also provide tips and advice on how to get the most out of your  Sensory Lamp and how to choose the right one for you.
Our product-LED sensory  night lamps are designed to bring a calming and soothing atmosphere to your home. The lamps feature an array of LED lights that create a stunning and mesmerizing light show. The lights move and shift in color, creating a truly unique experience for you and your family. The lights also feature a number of different sound modes, allowing you to customize the soundscape to fit your needs. Whether you're looking for a stimulating and upbeat atmosphere, or a relaxing and soothing one, our product-led sensory lamps can help create the perfect atmosphere for you.
HOW SENSORY NIGHT LAMPS CAN HELP YOU?
Do you ever find yourself having trouble sleeping or feeling stressed out? Fortunately, Sensory Night Lamps can help you improve your sleep and reduce stress.The lamps feature a unique blend of colors and light that can help you relax and get the rest you need. The lamps also feature a dimmable light, allowing you to adjust the brightness to suit your preference and comfort level.
In addition, the lamps can act as a nightlight, offering a gentle glow that can help you feel safe and secure in the dark. Investing in a Brewish lamp can provide a wide variety of benefits. Give it a try and see if it helps you get the rest you need!
We are excited to bring you our high-quality night lamps. Our lamps are energy-efficient, so you won't need to worry about wasting energy.They come in a variety of styles and colors to suit any room. We believe in making quality products that will last, so you can trust our lamps to provide years of reliable service.
We hope you will find our night lamps to be a great addition to your bedroom or living space.Brewish sensory lamps are designed to help people sleep better. These lamps are also known as night lights, which provide a soft and warm light that is comfortable for the eyes. Brewish sensory lamps have different features that make them stand out from other types of night lights.
How to Choose the Right Lamp for Your Home
When it comes to selecting a lamp for your home, there are many things to consider. Not only do you want a lamp that fits your decor, but you also want one that is functional and provides the right amount of light. When shopping for a lamp, Brewish lamps should be at the top of your list.They can easily be incorporated into any room in your home.
These lamps are designed to provide the perfect amount of light for any given space.  Brewish night lamps come in a wide variety of shapes, sizes, and styles, making it easy to find one that fits your decor and needs.
There are many varients in BREWISH night Lamps, you can find a lamp with a unique design that adds a special touch to any room. Some of the most popular lamps include:
THE BEAUTY OF BREWISH LAMP
Brewish sensory night lamps are a unique type of lamp designed to help promote relaxation and well-being. They are designed to create a calming, sensory atmosphere in any room or space.
 The light emitted from the lamp can also help to boost mood and provide a sense of calmness.Brewish sensory night lamps are a great way to add a touch of beauty and tranquility to any room.
Not only are these lamps aesthetically pleasing, but they also provide a range of therapeutic benefits. The soft, natural light emitted from the lamp helps to reduce stress. It is also believed to help improve sleep quality and reduce anxiety.
Brewish's LED sensory night lamps offer a unique and stylish way to light up your home. Not only do they provide a beautiful ambiance and atmosphere, but they also work to help create a calming and peaceful environment. With the ability to adjust the lighting intensity, color, and brightness, these lamps can be tailored to the user's unique preferences and needs.
 Brewish LED Sensory Night Lamps are designed to help you relax and sleep better. With this Sensory Lamp, you can enjoy a restful night's sleep without any distractions.These night lamps are designed to fit into any room, making it a great choice for any home or office. It can be used on a desk, nightstand, or even mounted on the wall . Additionally, the LED technology ensures that the lamps are energy efficient and long-lasting. With their modern and minimalistic design, Brewish's LED sensory night lamps are the perfect finishing touch for any home.