Brewish 3.9FT Sensory LED Water Bubble Fish Tube Floor Lamp
Water Bubble Lamp from Brewish
This product is from the house of Brewish – Pioneer in manufacturing LED Lava Lamps. Brewish is committed to produce the best premium stuff to facilitate and serve people in a desirable wishing atmosphere. We are plunging all the attention to turn out wonderful and satisfied services. Consumer's satisfaction would always place on a top prior position.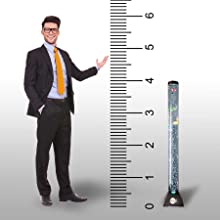 47.5" Extra Large Floor Lamp
The 3.9FT Height with Sturdy Base makes it best choice for the column floor lamp. This extra large size makes it unique from other lamps.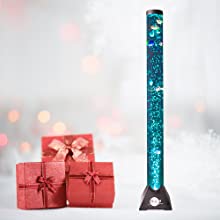 Best Addition for your Home Decor
This Water Bubble lamp is suitable for any room. It is versatile and can be used as a floor lamp and a fake aquarium tank. The aquarium theme of the lamp brings the deep sea ambience to your home. The illumination and changing colour will be delightful to watch.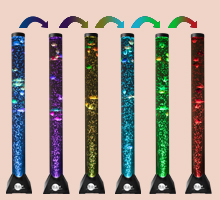 The Water Bubble Lamp has 20 colour settings to choose from. There are 16 solid colors like Blue, Green, Red and 4 transition settings – Smooth, Strobe, Fade and Flash. Set the colour and transition of the lamp to match your mood with the remote control. This facility makes this bubble tube lamp suitable for all occasions. You can use it for calm and peaceful meditation to loud and joyful parties.
Realistic Life Like Fishes
The package includes 10 Plastic life like fishes. In addition, you will also recieve 2 extra fishes for free. These fishes are of high quality and toxic free. It will swims in the bubble tube like a real fish.
If there is any short of fishes after a long usage, don't worry you can buy this accessory seperately from our store.
Now bring ultimate peace to your mind with our Water Bubble Floor Lamp. Watching the fishes moving in the bubble tube with the combination of changing light will be a visual delight and provides a soothing effect to your mind. Having this LED Aquarium lamp in workplaces helps to reduce stress due to hectic work schedule.
Possess Anti-Omnious and Spread positivity
Spiritual, Happiness & Love
It is believed in many western countries, that Magic Water Bubble lamp is Anti-Ominous and having one or two lamps at your home will protect /hold your household avert God's condemnation. Moreover, this eye-catching water bubble lamp brings positivity in the mind of users and help them to ease their tense to feel them happy.
Fantasy Lamp for Fantastic Kids...
Kids will love this..
This Aquarium Bubble lamp can also be used as Night Lamp for Children. The rhythmic buzzing sound from the lamp with changing color is hypnotic and help them to fall asleep soon. This lamp also relieves kids from anxiety and tension. Viewing the fishes moving in the tube along with the changing colour will improve the child's color recognition ability and object tracking skills. The sensory stimulation of the lamp helps persons with special needs, ADHD, dementia and Autism. These special features of this lamp make it a perfect gift for kids.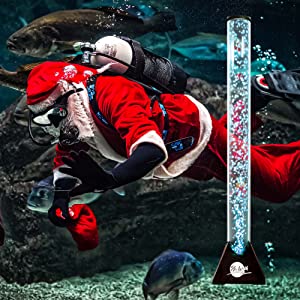 TRANQUILITY OF OCEAN
Add a warm and accent light to your sweet home with this Aquarium Design Floor Lamp. Set up this water bubble tube lamp in a few minutes with ease and enjoy the lamp.
WARNINGS
Indoor use only. Do not operate in areas exposed to moisture

Use only pure, distilled water. Use of other types will affect the function of the product & may cause algae growth.

Do not attempt to move the product when filled.
How to Use?
Place lamp on a level surface where it cannot be knocked over.

Fill with pure, distilled water upto the level marked. Soak the fish in it overnight.

Connect the plug and turn switch On.

Let it run for sometime and the fish will slowly start going down.

It may take a day before the fish are happily swimming all over.