Brewish Mini Sensory Bubble Desk Lamp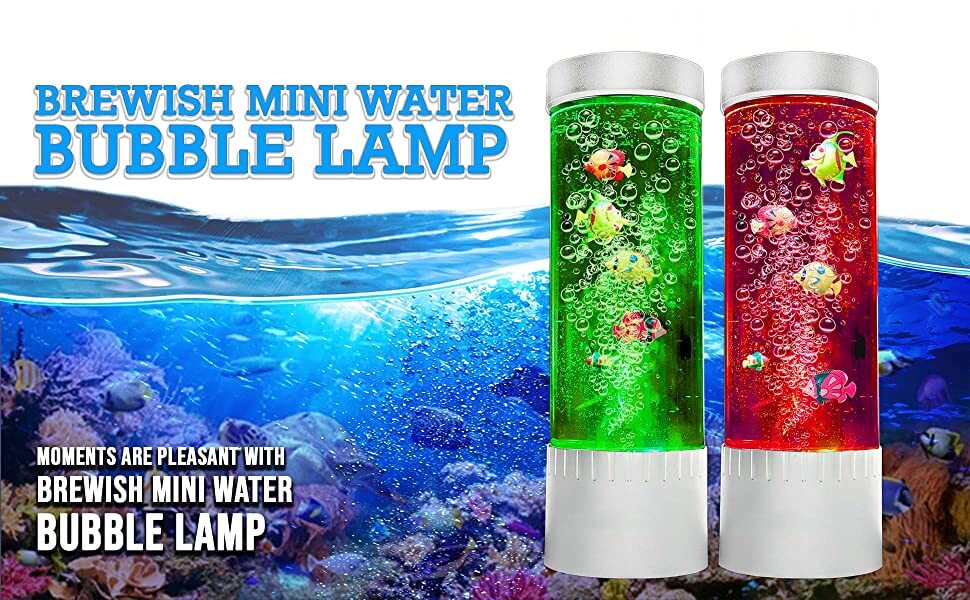 Brewish Mini Sensory Bubble Table Lamp
Brewish Mini Bubble Lamp allows you to let your imagination run wild. Designed to create a soothing atmosphere in any room, this product is a true eye-catcher. In addition to being efficient, it emits no heat. A great gift idea for a loved one or a great way to showcase your contemporary style, it is sure to make a lasting impression. If you are looking for a mesmerizing floor lamp, the Mini bubble lamp is an excellent choice. Your room will be illuminated by beautiful, lively bubbles day and night.
Versatile Aquarium Mini Bubble Lamp
Kid or Adult, Enjoy the Experience!
Adapting your surroundings to your requirements can result in a more productive and carefree way of life. Brewish's Mini Bubble Lamp is really one tiny method for accomplishing this. The mellow light coming from our Mini Bubble Lamp will set the mood for fun and laughter, whether you use it as a nightlight for your children, a home décor lamp in your living room, or as party decor during his or her upcoming birthday celebration. The Mini Bubble Lamp is ideal for both youngsters and adults because it can be used as a mood lamp or as ambient light.
Sensory Room Equipment for Autistic children:
Let your kids have the best time playing and learning with the new Mini water bubble lamp. They will be entertained by the bubbling water and colorful lamp while they learn at the same time. This cool new invention is specially designed for kids with autism, ADHD, and other sensory conditions in mind.
Enjoy the Tranquility of Ocean!
Now create a conducive ambiance in your home with this home aquarium.
Add a warm and accent light to your sweet home with this Aquarium Design Floor Lamp. Set up this mini water bubble lamp in a few minutes with ease and enjoy the lamp.
The perfect gift for children and parents alike, because it's well designed, educational, and imaginative. 
Indoor use only. Do not operate in areas exposed to moisture

Use only pure, distilled water. Use of other types will affect the function of the product & may cause algae growth.

Do not attempt to move the product when filled.

Please wait for 24 – 48 hours for the Fishes to swim properly
This product is from the house of Brewish – Pioneer in manufacturing LED Lava Lamps. Brewish is committed to produce the best premium stuff to facilitate and serve people in a desirable wishing atmosphere. We are plunging all the attention to turn out wonderful and satisfied services. Consumer's satisfaction would always place on a top prior position.