Sensory lights are a new type of lamp that is designed to stimulate the senses. They are designed to mimic natural lighting and provide a calming environment for people. Sensory lights can be used for anything from creating a calming atmosphere for meditation or relaxation, to helping people sleep better at night.They offer an assortment of colors, light patterns and sounds that can be used to create a soothing ambiance.
The sensory lights are a type of sensory therapy that is used to help children with autism. They are often used in combination with other therapies such as occupational therapy, speech and language therapy, or Applied Behavior Analysis.
The lamps work by providing a light that is not too bright to disturb the child. The light emitted from the lamp is also in sync with the natural light cycle which helps regulate their circadian rhythm and sleep patterns. They can help them calm down and focus on the task at hand.
Sensory lamps are also used in classrooms, where they can be used as a calming tool for children who have sensory sensitivities or who need to take a break from the classroom environment.
BENEFITS FOR PEOPLE WITH DISABILITIES
They can help them to connect with the world around them, and in some cases, they can even improve their abilities. For example, some people who are blind can use sensory devices to "see" the world around them by using vibrations or sound. Sensory devices also help children who are deaf or hard of hearing to speak more fluently and understand speech better.
Sensory devices can be used by people with disabilities or those who cannot use their hands to perform tasks. These devices are made for people who need to be able to interact with the world around them. They allow them to do things such as turning on the lights, opening a door, and answering the phone.
Sensory devices are not only useful for people who have disabilities but also for those who want to give their hands a break from work or just want to feel like they're still in control of something in their life.
Sensory devices are becoming more and more popular in our everyday lives. They can be used for a variety of purposes, from entertainment to healthcare, rehabilitation, entertainment, education and training.
HEALTH BENEFITS OF SENSORY LAMP
Sensory lamps are a great way to create a calm and relaxing atmosphere in any room. Lamps that emit light and provide an appropriate level of brightness can be very beneficial for people who have trouble sleeping. Some lamps also come with sound therapy, which can help the person relax even more.
A sensory lamp is a type of light therapy that has been used to help people with autism, ADHD, and other disorders. This type of light therapy has been around for decades and has been used to help people with all kinds of issues.
The color is said to be similar to sunlight, which helps the body produce serotonin, a hormone that is responsible for mood stability.
The best way to get your kids to enjoy their time in the house is by getting them a pet. But pets are not always possible, so what can you do?
Simple,  you can just buy BREWISH Aquarium Lamps for your kids to make them believe they have an underwater world in their room.
 There are 2 variants of  aquarium lamps that you can buy for your kids
JELLY FISH LAMP
BUBBLE FISH FLOOR LAMP
Aquarium lamps are a great way to get your child interested in the aquarium. This is because they use high-quality LED lights that are designed to simulate natural light.It also has a calming effect on the child. It can help relax the child, make them feel safe, and reduce anxiety.
They promote creative activities for autism kids and help them develop their imagination. They can also be used as night lights for kids.These lamps will help your kids develop creativity and imagination because they will be able to create their own imaginary world.
Lively Companion & Home decor- Lifelike Super Jellyfish will dance soothingly on your desk .Release your loneliness away if you personally stay alone at your home or office.Much alike "Real Pet "to Relive Your Daily Stress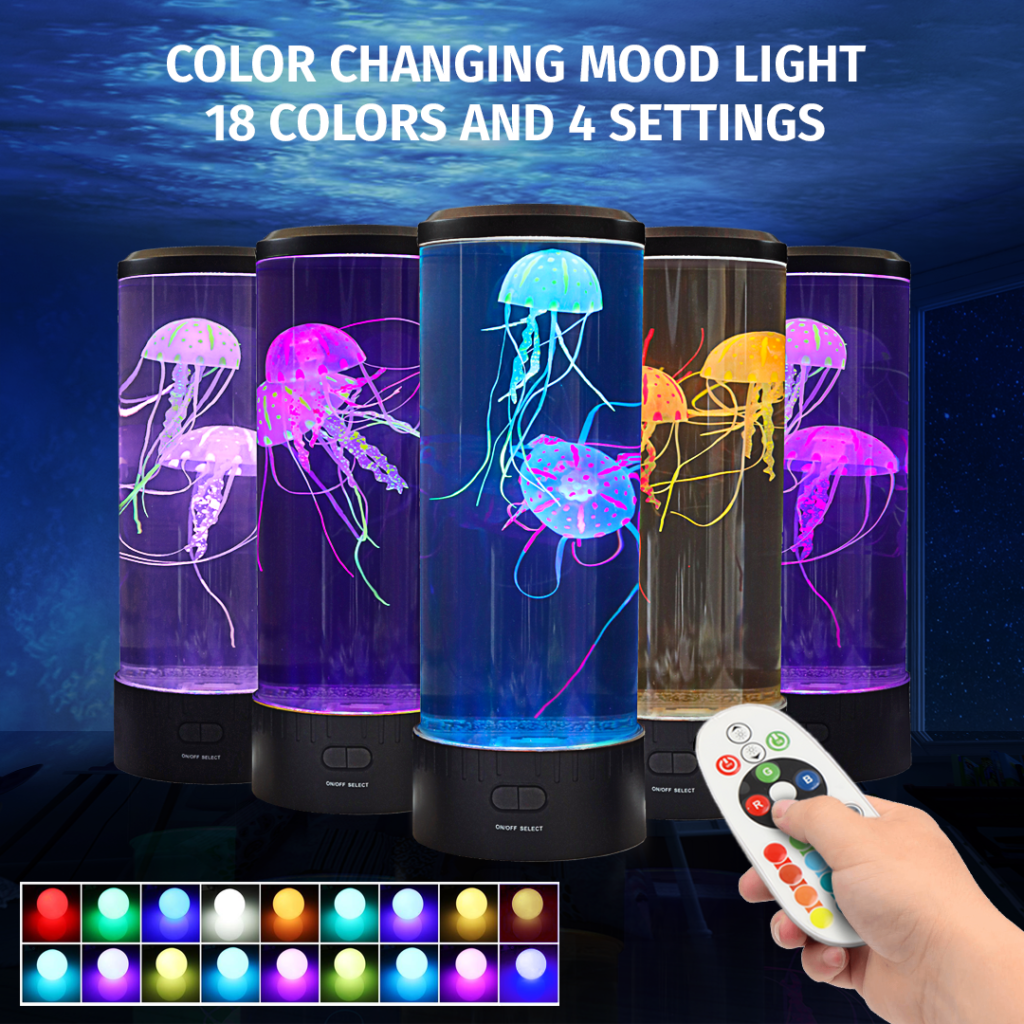 Large Jellyfish Lamp with Remote
 Have a unique, modern, stylish lamp in your bedroom or living room. The super fish lamp looks so lifelike that it's like having a new friend who happens to be there all day long.
 This dazzling lamp is a must add collection for your home décor. The novelty looks of the lamp and its larger size will be noticed and praised by all your guests. The presence of this lamp makes your room brighter and more beautiful. Addition to décor value, this lamp possesses anti-ominous nature which protect /hold your household and spread positivity at your home or office.
Bubble Floor Lamp-Wall Bracket included
Bubble Floor Lamp-Blue Base
This Led Light Lamp suits any occasion. Whether a birthday party or a Christmas celebration, this tall floor lamp recreates guests by spreading happiness! Get complete peace of mind with the 30-days money-back guarantee – if things don't work out, you can rest assured that we will take care of it.
Bubble Floor Lamp-Silver Base

Just plug this corner lamp and enjoy the beautiful, calming & soothing light in the dark combined with white noise to help you relax and unwind your mind. This RGB floor lamp is perfect for any living space and will create a mood you can't find anywhere else.
Bubble Floor Lamp- Rose Base
The perfect gift for children with autism, ADHD & special needs.It's also a great gift for kids & adults who like aquarium decorations. Watching the fishes move up and down in the water and the lights changing constantly is the best exercise for the child's color recognition ability and Improves concentration.
The Brewish Sensory Lamp is a gift that will last a lifetime. It was designed to help kids with autism and sensory processing disorders explore their world through the senses of smell, sound, light, taste, and touch.One of the ways to deal with autism is through creative activities.
These lamps are the best gift for your kids. They help in improving their mood and mentality. It not only makes them more enthusiastic but also helps them think better . It is the perfect solution for parents who are looking for something to help their children cope with depression or anxiety.