The night and light share a delicate symbiosis. Light finds its true purpose in the embrace of the night, for it is against the backdrop of darkness that its brilliance shines the brightest. Similarly, the night finds its allure in the presence of light, as it transforms into a canvas upon which light can paint its vivid hues.
Lily's Relationship with Night and Light
                        Once upon a time, in a cozy little house nestled on the outskirts of a bustling city, there lived a young girl named Lily. Lily was enchanted by the mysteries of the night, eagerly awaiting the sun's descent below the horizon when darkness would envelop the world. she loved the night, she often found it a little too dark and intimidating.
One evening, as Lily sat on her bed, gazing out of the window at the stars twinkling in the velvety sky, a soft glow caught her attention. It emanated from a small, ornate box sitting on her bedside table. Curiosity piqued, she opened it and discovered a tiny night light inside. At that time, she understood night and light have a beautiful relationship.
The night light, with its delicate design of a 3D moon Light, emitted a warm and comforting glow that filled the room with a soft luminescence. Lily was mesmerized by its beauty and the way it transformed the darkness into a gentle embrace. The night covered with little glow light is wounderful for her.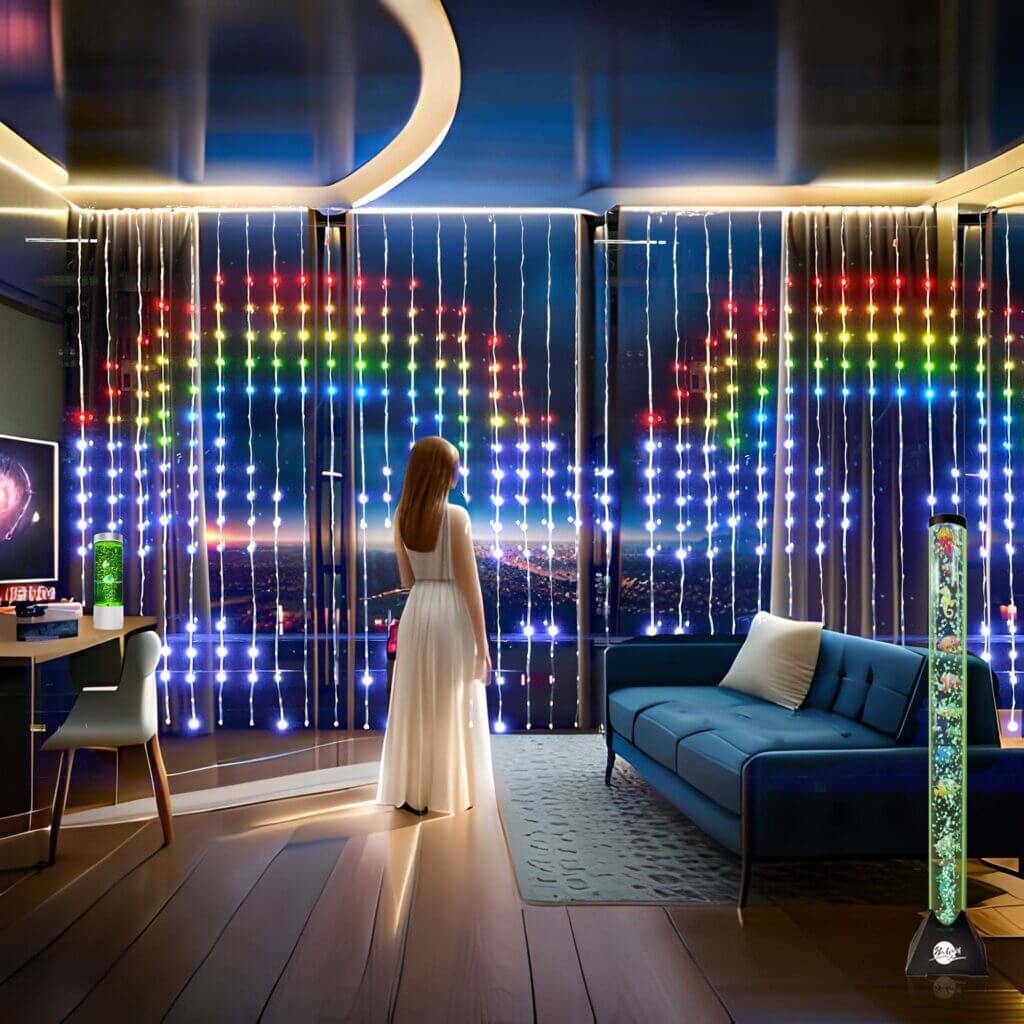 From that night onward, Lily's relationship with the night changed. She no longer felt afraid or lonely in the darkness, for her trusty night light was there to accompany her on her nocturnal adventures. The night and light became her steadfast companion, casting a reassuring glow that illuminated her path. Through the gentle glow of night lights, they found comfort, inspiration, and a reminder that even in the shadows, there is beauty to be found.
With her newfound confidence, Lily started exploring the world of night lights. She search online and bought bubble light casting a celestial radiance that made her feel as though she was floating among the constellations. There were night lights like Jellyfish Lamp, Bubble Lamp, Star projectors, RGB colour Lamp, Global plasma lamp.
        The jellyfish lamp is a captivating and mesmerizing piece of decor that brings the beauty of these ethereal creatures into Lily living space. With its soft, ambient lighting and realistic jellyfish movements, the lamp provides a tranquil atmosphere that promotes relaxation and tranquility to Lily. Whether used as a night light, an accent piece, or a focal point in a room, the jellyfish lamp adds a touch of serenity and wonder, transporting her into the depths of an underwater world.
Buy link: https://brewishstore.com/shop-2/
The bubble lamp is a whimsical and enchanting lighting fixture that adds a touch of magic to any space. It features mesmerizing bubbles that continuously rise and fall within a liquid-filled chamber, creating a mesmerizing visual display. The soft illumination and gentle motion of the bubbles create a calming and soothing ambiance, making the bubble lamp a delightful addition to room.
Buy Link: https://brewishstore.com/shop-2/
The RGB color lamp is an interactive lighting device that allows Lily to create a vibrant and personalized ambiance. With its ability to change colors and brightness levels, she can customize the lighting to match her mood or decor. Whether she want a calm and soothing atmosphere or a lively and energetic vibe, the RGB color lamp puts her in control, offering endless possibilities to enhance space with stunning and dynamic lighting effects.
Buy Link: https://brewishstore.com/shop-2/
The star projector is a captivating device that brings the beauty of the night sky indoors in lily room. With its projection of stars, constellations, and celestial patterns, it transforms any room into a mesmerizing cosmic oasis. The gentle glow and shimmering lights create a soothing atmosphere, perfect for relaxation or enhancing a bedtime routine. Whether for stargazing enthusiasts or creating a dreamy ambiance, the star projector adds a touch of wonder and magic to lily bed room and again she surprised by night and light combination.
Buy Link: https://brewishstore.com/shop-2/
LilyStep into a mesmerizing world with the global plasma light! Its glass sphere comes alive with vibrant tendrils of light that respond to her touch and movements. Tap the surface and witness lightning-like bolts of energy gravitating towards her fingertips, creating an electrifying connection. By placing her hand near the glass, feel the tingling sensation as the plasma tendrils curve and reach out to meet your touch. Control the intensity and shape of the plasma's dance by moving her hand closer or farther away. Run your fingers along the glass surface and watch as the plasma follows your movements, tracing intricate patterns and pathways. Experiment with different gestures to unlock new possibilities as the global plasma light responds to her every command. Adjust the intensity using the control dial, witnessing the shifting and evolving colors from soothing hues to vibrant bursts of energy.
Buy Link: https://brewishstore.com/shop-2/
This light isn't just for entertainment:
It's a gateway to an immersive sensory experience. Let your imagination soar as you explore the boundless possibilities of light and energy. Unleash your creativity, fearlessly experiment, and let the global plasma light be your guide on an interactive journey of discovery.
Night and light create a magic to lily' s life:
              Lily's room became a magical wonderland, adorned with an assortment of night lights that created a symphony of night and light. Each night, she would turn them on one by one, transforming her room into a whimsical dreamscape where her imagination could run wild.
One particularly stormy night, as rain poured outside and thunder rumbled in the distance, Lily huddled in her bed, seeking solace from the tempest. The room was dimly lit, but the glow from her beloved 3D moon night lights provided a sense of safety and comfort.
As the storm raged on, Lily realized that the night lights not only brought illumination but also a sense of tranquility. Their soft glow seemed to chase away the shadows of fear and uncertainty, replacing them with a warm embrace of serenity. chase away the shadows of fear and uncertainty, replacing them with a warm embrace of serenity.